Sebastian Vettel took a sensational first victory for Ferrari as he won a straight fight with Lewis Hamilton's Mercedes at the Malaysian Grand Prix.
Vettel, who joined Ferrari this year as Fernando Alonso's replacement, won a strategic battle as Mercedes struggled with tyres in the tropical heat.
Hamilton's team-mate Nico Rosberg was third.
Ferrari's Kimi Raikkonen fought back from an early tyre puncture to take fourth place.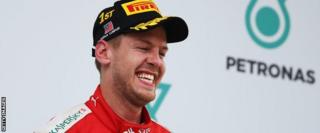 Getty Images
The performance of Ferrari and Vettel was a wake-up call for both Mercedes and Formula 1, the German team having dominated the sport since the start of last season.
It raises the possibility that Mercedes will face an unexpected fight for this year's world title, with Ferrari very much on the world champions' pace all weekend.