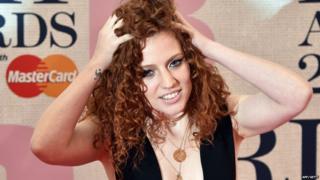 AFP/Getty
Jess Glynne has beaten off her rivals to claim her spot at the top of the UK singles charts for the first time as a solo artist.
The singer got two number ones last year as a guest singer on Clean Bandit's song "Rather Be" and on Route 94's "My Love".
Jess said: "To get a number one in my own name is one of the most insane feelings".
Jess beat of rival singer James Bay, and knocked Years & Years off the top spot, to claim her first number one solo single for her song "Hold My Hand".