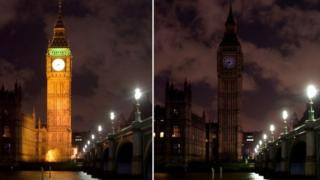 Landmarks go dark for Earth Hour
Famous landmarks around the world have been switching off their lights as part of Earth Hour.
The annual event organised by the World Wildlife Fund aims to raise awareness over the way we create and use energy.
Yesterday at 8:30pm, people around the world in seven thousand cities and towns joined in, including Paris' Eiffel Tower.
It was lights out for skyscrapers on the Frankfurt skyline, to highlight awareness about saving energy.
The famous colonial aqueduct Arcos da Lapa. WWF said that Earth Hour 2015 was the biggest one to date.
The Opera House in Oslo as 1200 monuments' lights, in 170 countries, are switched off.
The London Eye before Earth Hour begins...
The London Eye as it disappears.
Performers covered in lights dance during Earth Hour.