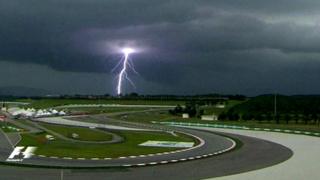 Lightning, thunder and heavy rain delayed the start of the Malaysian Grand Prix for more than half an hour.
But that didn't stop Lewis Hamilton taking pole position for Mercedes.
He finished 0.074 seconds ahead of Ferrari driver Sebastian Vettel, whilst Nico Rosberg came in third.
It's Hamilton's 40th finish in pole position; he'll be hoping to win again on Sunday.