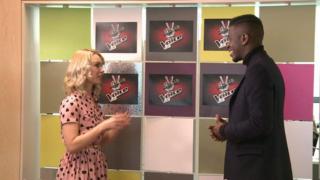 Jermain Jackman chats to Newsround
Hayley caught up with Jermain Jackman, last year's winner of The Voice, in the build-up to this year's finale.
The singing competition is heating up as the live semi-finals kick off this weekend.
Jermain is one man who knows how to sing in front four scary judges and an audience of millions - and win.
So what's life like for Jermain now? And what tips does he have for the semi-finalists?
Watch Hayley's interview to find out.