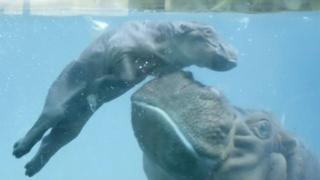 Baby hippo born in American zoo
A zoo in America has had a new arrival - a baby hippo.
The new-born calf arrived at the San Diego Zoo earlier this week and has yet to be given a name.
The new mum, Funani, is said to be bonding well with her baby.
But Funani is no stranger to parenthood because she's already given birth 11 times before!
The animal keepers are keeping a very close eye on the pair but say they are both doing well.