All this week Newsround is looking at food, and how you can eat more healthily.
It's after our big food survey, which showed more than half of kids don't eat any vegetables on a daily basis.
The guide will help you prepare the perfect packed lunch for school.
A balanced packed lunch should contain the following foods.



PA

"It's really surprising when you find out how much sugar is in certain things," says Dr Radha.
Dr Radha says: "Eating foods with less sugar can help you stay at a healthy weight."
Here are some simple ways to swap high sugar food with healthier options.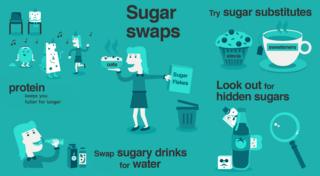 "Crisps, fizzy drinks, chocolate... once in a while this stuff is ok, but it's not great for your body," says Dr Radha.
Here are some healthier snack options.


Put all this together and you should be well on your way to packing a healthier lunch for school.

Need some new ideas for your packed lunch?
Get ideas for some simple, healthy and delicious things to make with BBC Dish Up.