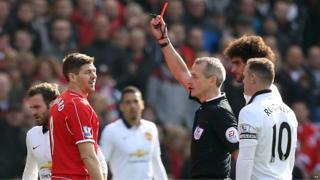 PA
Liverpool captain Steven Gerrard has apologised for being sent off during his team's match against Manchester United on Sunday.
He came on as a substitute but was sent off after just 38 seconds.
He appeared to stamp on Ander Herrera moments after being tackled by the Spaniard.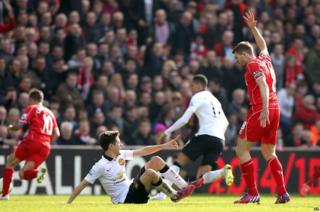 PA
Gerrard told Sky Sports: "I need to accept it; the decision was right. I've let down my team-mates and the fans."
"I take full responsibility. I don't know what caused it. Probably just a reaction to the initial tackle," he added.
"I shouldn't say more about it really. I've just come out here to apologise to the dressing room and supporters."
Liverpool were defeated 2-1 by Manchester United.
Gerrard is set to join LA Galaxy at the end of the season. He will miss three games after being sent off.