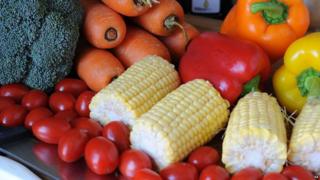 PA
Newsround's big food survey shows more than half of kids don't eat any vegetables on a daily basis.
The survey found out one in three of you say you eat unhealthy food more than three times a week.
We spoke to 1,432 children aged 7-12, across the UK.
The results come at a time when one in three kids is said to be overweight or obese.
How healthy do you think you are?
I eat carrots, broccoli, peas and my least favourite vegetable sweet corn, with my favourite lunch/dinner such as fish fingers and chips. So I'm 50% healthy.
Aidan
I think I'm healthy enough because raspberries are my favourite food and I do tap dance, ballet, modern dance and swimming.
Orla, Devon
I try to think about what I eat and if it is healthy. I do football, tennis and swimming. I have to wait five weeks for pizza!
Jacob, York
I think I'm very healthy because my mum always gives me fruit/veg in my packed lunch.
Saraf, London
My favourite food is banana. I think more people should like fruit, like me and my friends.
Noelia, Scotland
I eat a lot of fruit and veg and we try not to eat out or have a take away more than once a month. I think that's reasonable.
Elsa, Birmingham
I eat veg most days but I have fruit everyday!
Jasmine, Doncaster
I think I'm very healthy because I exercise every day and I think about what I eat. I eat veg a lot. I only eat unhealthy food 3-4 times a week.
Dina
I think I eat healthy, because I have pepper and cucumber in my packed lunch every day and when we have unhealthy meals I have salad with it.
Emmie, Launceston
I am healthy on weekdays, but not very healthy on weekends!
Mark, High Wycombe
I am healthy because I always get my five-a-day and I exercise and eat healthy.
Abby, Sheffield
I need to try some fruit and veg but I find it really hard.
Steve, Portsmouth
I think I am quite healthy because I have an apple nearly everyday and I eat my veg.
Lavinia, Dorking
Thanks for sending us your comments. This chat page has now closed.