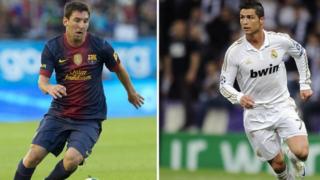 Messi better than Ronaldo, says Pele
Footballing legend Pele says Lionel Messi is better than Christiano Ronaldo.
"At the moment people always try to compare Ronaldo with Messi but it's a different style," the three-time World Cup winner told BBC Sport.
"They are two great players, but in the past 10 years the best in the world was Messi."
Messi and Ronaldo will go head to head in the Real Madrid and Barcelona El Classico on Sunday evening.
Argentina and Barcelona star Messi, edges Real Madrid and Portugal's Ronaldo, 4-3 in World Player of the Year awards, Ballon d'Or.