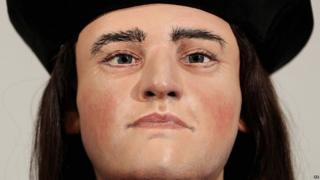 PA
Special events have started today to build up to the reburial of Richard III, who was discovered in a car park in Leicester in 2012.
A ceremony has taken place at the University of Leicester and his remains will be taken to Leicester Cathedral, before being officially reburied next week.
The medieval king, who ruled England in the 1480s, died in 1485.
After the discovery of the skeleton in 2012, it took archaeologists years to confirm that the remains were Richard III's.
Who was Richard III?
• Richard III was the last Yorkist King of England, this means he was the last member of the House of York family to be made king.
• Richard had one of the shortest reigns in British history - just over 2 years, and he was the last English king to die in battle.
• He was killed at the Battle of Bosworth in 1485, which led to the end of the War of the Roses. This was fighting between the houses of Lancaster and York that lasted 30 years.
• Richard III has been painted as a villain. It's said he killed his two nephews so he could take the throne and William Shakespeare wrote a play about him but some historians say this was propaganda and might have been unfair.