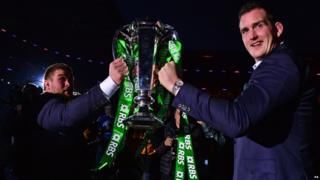 PA
Ireland have won the Six Nations title on a dramatic final day of the championship.
Ireland finished with the same number of wins as England and Wales, but with a superior points difference, thanks to a 40-10 victory over Scotland.
The day had started with Wales beating Italy 61-20 in Rome. Ireland needed a huge win and their demolition of Scotland was enough to both pass Wales and set a target just beyond England.
England came close, but even an epic 55-35 win over France wasn't quite enough.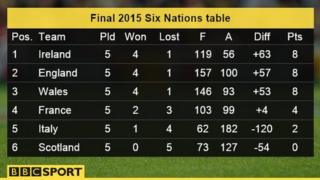 How it happened:
In first game Wales only lead 14-13 against Italy at half-time

But seven second-half tries see them win 61-20 and go top

Ireland need a 21-point win and lead Scotland 20-10 at the break

Ireland go on to win 40-10, putting Wales out of the running

England chase a 26-point win over France to take title

France lead 15-7 after 18 minutes in a remarkable game

England recover to win 55-35, but the trophy goes to Ireland