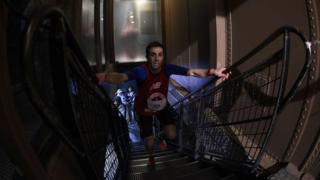 The race up the Eiffel Tower in Paris
More than 50 athletes have taken part in a race climbing to the top of the famous Eiffel Tower in Paris.
The race, known as the "Vertical" involves racing up 1,665 steps.
The runners had to contend with cold weather and high winds as they raced up the famous landmark.
The race was won by Piotr Lobodzinski from Poland, who climbed the 324 vertical metres in 7 minutes and 50 seconds.
Another competitor, Madeleine Fontillas-Ronk, said: "It's 10-15 minutes of all out effort. You feel your lungs, your throat, your brain is telling you to stop. But you want to finish."