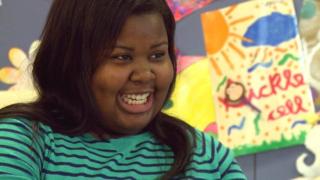 What's it like having Type 2 diabetes?
This week on Newsround we're talking lots about food and what it does to your body.
It's because one in three kids in the UK is now overweight or obese.
In the worst cases and over time obesity can start to cause other health problems like Type 2 diabetes.
Guide:
Usually that doesn't happen until someone is more than 40 years old but in recent years there's been a rise in the number of children and young people getting it.
As part of a special Newsround programme, Ricky visited the United States where lots of people are overweight.
He met 14-year-old schoolgirl Kierra who has type-2 diabetes.
Usually doctors wouldn't expect somebody to get type-2 diabetes because of their eating habits, until they were at least 40 years old.
But in the United States the number of children getting the condition is going up.