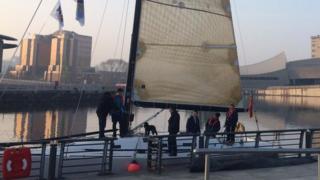 The children having lessons on a yacht
Children from a school on the Wirral have swapped their classroom for a yacht.
Every week, the children have lessons on the vessel at Liverpool Docks and as part of BBC School Report Day, they've taken it out on the water and sailed down to Media City in Salford.
They'll have special lesson and demonstrations on the boat for the day.
More than a thousand schools are taking part in School Report and the aim is to learn how the news is made.
The BBC's Disability correspondent Nikki Fox followed the group as they sailed to Media City.