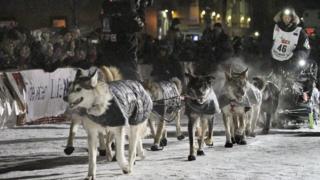 Huskies race 1,000 miles across Alaska
Hundreds of husky dogs have taken part in an annual 1,000 mile race across Alaska.
The dogs race in teams, pulling along a sledge in some of Alaska's roughest terrains with freezing temperatures and strong winds to contend with.
The race, called the Iditarod, was won by Dallas Seavey who beat his Dad Mitch who was also competing.
It's the third time Dallas has won the Iditarod, beating 78 other teams in this year's race.