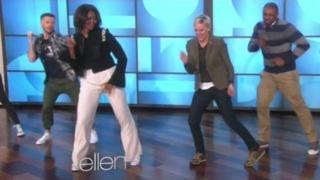 Michelle Obama shows off her dance moves
Michelle Obama, wife of US President Barack Obama, has showed off her dance moves on a TV chat show in the USA.
She appeared on the Ellen DeGeneres show to discuss her plans after President Obama finishes his time as leader.
The said she was most looking forward to what she called "luxuries", like driving her car with the windows down.
She probably couldn't do that at the moment because too many people would take photographs.
Michelle was invited to dance to pop hit Uptown Funk - and she didn't disappoint.