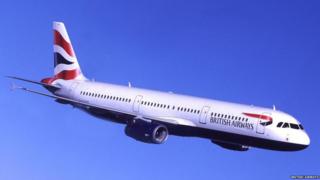 British airways
A plane was forced to go back to the airport and land because somebody had done a "smelly poo".
The plane was heading from London Heathrow to Dubai on Thursday.
It should have been a seven-hour flight but the pilot had to return to the airport after just 30 minutes.
Abhishek Sachdev, a passenger on the plane, tweeted: "Our BA flight to Dubai returned back to Heathrow because of a smelly poo in the toilet."
It's thought somebody had some toilet trouble during the flight and caused a bit of a stink.
Some of the air in a plane's cabin is recycled, so it was judged safest to land the plane instead of letting the smelly air circulate in the cabin.
The passengers were put up in a hotel overnight and were able to get another flight the next day.
British Airways said: "We're very sorry for the discomfort to our customers."
"We provided them with hotel accommodation and rescheduled the flight to depart the next day," the airline added.