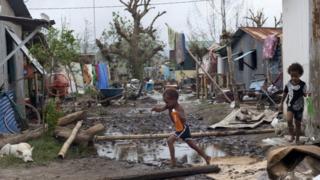 Cyclone-hit Vanuatu asks for help
Vanuatu is in "immediate" need after Cyclone Pam tore through the country at the weekend, its president says.
President Baldwin Lonsdale said the storm had "wiped out" all development of recent years and his country would have to rebuild "everything".
Aid has begun arriving in the storm-hit nation - one of the world's poorest - but contact has still not been made with some of its more remote islands.
Aid agencies say it could be one of the worst disasters ever to hit the region.