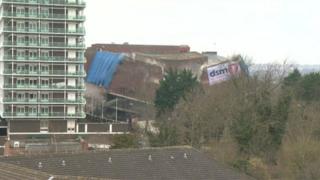 Bus station in Northampton demolished
A bus station that has dominated the skyline of Northampton has been demolished.
It took around just six seconds to blow up the building which has been standing for 40 years.
More than 400 homes were evacuated during the explosion.
David Mackintosh, leader of Northampton Borough Council, said the demolition will "breathe new life into this under-used area of town".
It cost around £4million to demolish the old station.