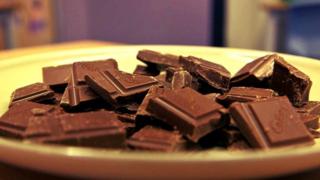 Which chocolate wins? USA vs UK
The biggest chocolate maker in the United States, Hershey, wants to block the sale of some British chocolate there.
The Hershey company owns the licence to produce Dairy Milk in the USA and sell it with the Cadbury name on it.
American Dairy Milk is made a little differently and has a different taste.
The Dairy Milk chocolate bars on sale in the UK are made by Cadbury using the traditional recipe.
Some companies in the USA import the British version to sell to customers - and Hershey wants to stop them.
The Hershey company says having both versions on sale creates "brand confusion".
We sent Newsround reporter Ayshah to find out which chocolate children seem to prefer - British vs. American Dairy Milk.