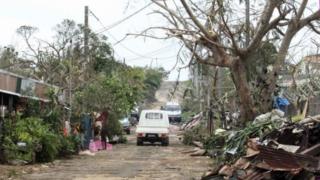 Cyclone Pam leaves thousands homeless
Thousands of people are homeless after a powerful cyclone hit the islands of Vanuatu on Saturday.
President Baldwin Lonsdale said Cyclone Pam had destroyed most buildings in the capital Port Vila.
267,000 people live in Vanuatu, spread over 65 small islands.
The cyclone did not follow the course it was expected to take, and hit populated areas. It has destroyed schools and medical clinics, and thousands of homes.