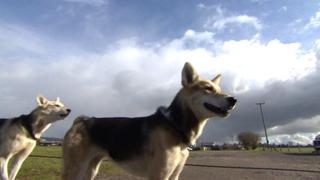 How husky dogs train in the UK
Husky dogs are often used in sled races in snowy places like Alaska in the USA, and there's plenty of snow there to train the dogs on.
Here in the UK it doesn't snow enough so the dogs are trained on muddy fields in Gloucestershire.
Vickie Pullin is a husky racer and has just taken part in her first race. Now she's getting ready for a big competition in Canada.
Vickie's team of huskies had never seen snow until the World Championships in Germany.
That didn't put them off!
Huskies can drag a sled through the snow at up to 20 miles an hour. They have the stamina to travel 20 to 30 miles every day
Hundreds of years ago the dogs were used to hunt food and drag heavy supplies across the snow, as people in Alaska moved from one area to another.