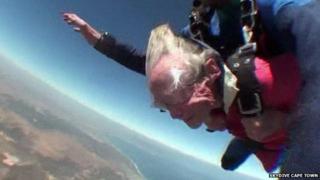 Daredevil gran goes skydiving for birthday
A daredevil gran has celebrated her 100th birthday by going skydiving in South Africa.
Georgina Harwood took to the sky above Cape Town, watched by her family and friends.
She did the skydive to raised money for charity.
"It was definitely a very special, exhilarating experience", she said.
It's not the first time Georgina has jumped out of a plane.
She did her first skydive in 2007 when she was aged 92.
Now she's planning on going diving with sharks as her next adventure.