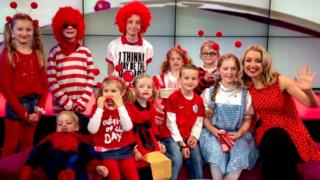 Kids share their Red Nose Day plans
Red Nose Day 2015 started in style at Newsround HQ as Hayley was joined, live on air, by school kids doing something funny for money.
Pupils at Branwood School told us what they're doing to raise to some cash for Comic Relief.
Across the UK today thousands of people are doing their bit, to help children and adults in need, living in Africa and the UK.
Watch what happened when we crammed ten kids into the Newsround studio!