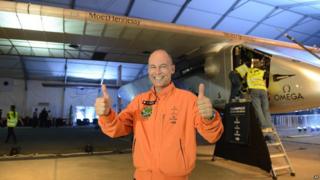 AP
Solar Impulse 2, the plane attempting to fly around the world powered only by the Sun, has completed the second stage of its journey.
By flying the 1,468km (just over 900 miles) from Muscat in Oman to Ahmedabad in India, it set a new record for the longest distance covered by a solar powered plane.
The flight took about 15 hours.
The latest stage of its journey means the mission is two legs down, with 10 more to go to make it round the world.
Read more: How does a solar plane fly at night?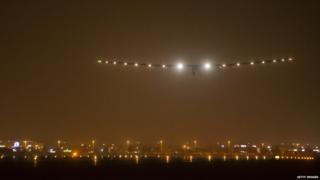 Getty Images
No solar powered plane has ever flown around the world.
Records are nothing new to the Solar Impulse project: in 2013 it was the first solar powered plane to fly across the United States during testing.
Two pilots are taking it in turns to fly the plane.
Solar Impulse 2 will now stay for a few days in Ahmedabad, before heading to Varanasi in north-east India.