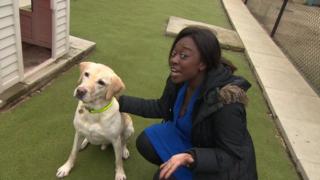 Award-winning border dog steps down
Tyke, who started his life at the Battersea Dogs Home, and has retired after 9 years as a Border Force dog.
He was one of 67 sniffer dogs that worked closely with Border Force officers around the UK.
Border Force dogs are trained to sniff out drugs, guns and even ivory and rhino horns.
Tyke was one of the most successful dogs; sniffing out a massive 27 tonnes of banned animal products.
Watch Ayshah's report to find out more.