The remaining episodes of the latest series of Top Gear have been scrapped after claims that presenter Jeremy Clarkson punched a producer.
The BBC says Sunday's programme won't be shown, after what it called a "fracas" between the presenter and one of the programme's staff.
It's thought the final two episodes in the series will be dropped too.
An online petition to "reinstate" Clarkson had been signed by more than 350,000 people by Wednesday lunchtime.
BBC Entertainment reporter Colin Paterson says "if it's true that Clarkson hit a producer, it's very serious".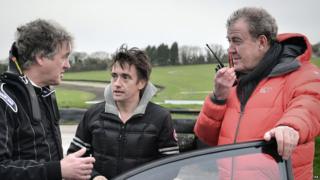 PA
Clarkson's 'final warning'
The BBC had announced Clarkson's suspension in a statement which said: "Following a fracas with a BBC producer, Jeremy Clarkson has been suspended pending an investigation.
"No one else has been suspended. Top Gear will not be broadcast this Sunday. The BBC will be making no further comment at this time."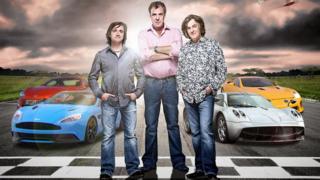 Clarkson, who has presented Top Gear since 2002, was given what he called his "final warning" last May after claims he used a racist word during filming.
The programme is hugely popular both in the UK and around the world, and makes the BBC a lot of money.
It holds the world record for the most-watched factual TV series.
Top Gear's top troubles
Jeremy Clarkson and Top Gear have got into trouble many times in the past.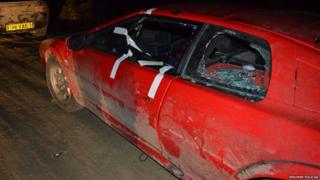 Resumen Policial
October 2014

- The show's stars and crew had to abandon filming in Argentina in South America after angry protests over a car number plate that seemed to refer to the Falklands War (a war between the UK and Argentina in 1982).

July 2014

- Jeremy Clarkson was found to have used a racist word to describe an Asian man in the show's Burma special.

May 2014

- Clarkson apologised and "begged forgiveness" for using a racist word when saying a kids' rhyme, in a video for Top Gear that was never broadcast, but was published by the Daily Mirror newspaper.

October 2012

- Clarkson said the design of a camper van looked like people with facial disfigurements. The BBC Trust said this broke the broadcaster's disability rules.

January 2012

- Indian diplomats complained about a Top Gear India special where Clarkson said a car fitted with a toilet in its boot was "perfect for India because everyone who comes here gets the trots."

February 2011

- The BBC apologised to Mexico after Clarkson and his co-hosts said Mexican people were "lazy" and "feckless".