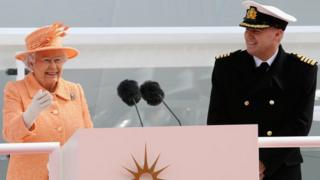 Queen names cruise ship 'Britannia'
Her Majesty The Queen has officially named a huge new cruise ship, Britannia.
It weighs 141,000 tonnes, can hold more than 3,500 passengers and is over 300 metres long.
And, it's not the first time the Queen has had the honour of naming a vessel.
She's previously christened the Royal Yacht Britannia and four cruise ships: Queen Elizabeth II, Oriana, Queen Mary II and the Queen Elizabeth.
Britannia has the same name as the her Majesty's former Royal Yacht Britannia, which was taken off the sea in 1997, after more than 40 years of service.
The cruise liner has a huge union jack on its bow and will make its first voyage to Spain, Italy and France on 14 March.
Passengers who go on the boat are expected to travel in luxury, as it has 13 places to eat, four swimming pools and 15 passenger decks!