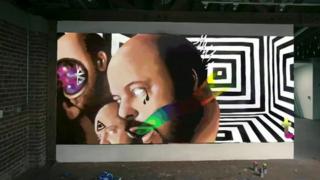 'GIF-iti' brings still images to life
London based artist INSA wanted his pictures to make more of an impact.
Instead of just single still images ,he wanted them to move and change.
So he came up with a new form of graffiti - that he's named "GIF-iti".
"GIF-iti" is a collection of painted images that are photographed and then looped in a digital file called a GIF (Graphic Interchange Format).
INSA has taken his art all around the world.
His most difficult and biggest painting was done in Brazil. Over four days, four separate images were painted by a team of people. Each image was photographed by satellite and the four photographs were looped into a one second GIF.
Watch the film to see his graffiti come alive.