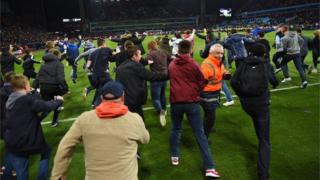 Fans invade pitch during Aston Villa game
The Football Association is investigating what caused fans to run onto the pitch during an FA Cup quarter-final match.
Some Aston Villa supporters held up the game by running onto the pitch during injury-time.
They ran onto the pitch again at full-time.
Some seats were thrown from the West Brom end of the stands.
The FA said it will investigate with the help of both clubs and the police.
West Brom boss Tony Pulis said the fans who ran onto the pitch are "mindless idiots".
Aston Villa said in a statement: "We are very disappointed that what should have been a very memorable and proud moment for our fans was marred by the actions of those who could not control themselves."
The club added: "They have let both themselves and their club down."