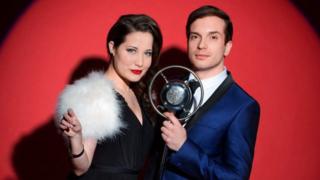 UK Eurovision entry revealed
A pop duo called Electro Velvet will represent the UK in the Eurovision Song Contest 2015.
Bianca Nicholas was a contestant on The Voice in 2014 but none of the judges turned around for her.
Alex Larke usually performs as a tribute act to rock legend Mick Jagger.
Their song is called Still in Love With You and is described as an up-tempo electric swing track.
Alex said: "I feel incredibly privileged and humbled to be representing the United Kingdom in the Eurovision Song Contest in Vienna."
"We have a fantastic song and will work as hard as is humanly possible to bring the contest home and make our great nation proud," he added.
The song was written by David Mindel and Adrian Bax White. It was chosen from hundreds of entries on the BBC website.
The 60th Eurovision Song Contest takes place in Vienna, Austria on 23 May.