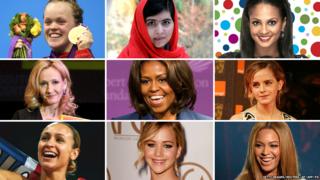 Getty Images/reuters/ap/afp/pa
Today is International Women's Day - a celebration of women's achievements through history.
Around the world the day is being marked with parades, speeches and special events.
But the day is also an opportunity to highlight the work that still needs to be done to make men and women truly equal.
Which women inspire you - and why?
Thanks for sending us your comments. This chat page is now closed.
The woman that inspires me is my mother. She is kind and loving and helps me when I need it. She works part-time and still has time to care for me and my brothers. I love her even when she scolds me. I think she is the best woman in the world!
Elly, Singapore
Malala inspires me to learn and not let my education go to waste. She stood for what is right, taking a huge risk. Girls deserve an education and I am lucky to be able to learn for six hours a day, five days a week with 12 teachers for 15 different subjects.
Sophie, Fermanagh
My best friend Kez inspires me. She has to put up with so many things thrown at her but she still goes everyday with a smile on her face. She makes me laugh every day without fail. She shows me that there can not be a day were the Sun does not rise.
Sanch, Huddersfield
Rosa Parks is the woman who inspires me because she stood up against the law in America. She was one of the people who helped the black people have equal rights in America. She is an amazing woman and I think everyone should know about her.
Molly, Northern Ireland
I was inspired by Benazir Bhutto. She was a brave and extraordinary woman. She was the first Muslim woman who was the prime minster of Pakistan.
Quratul, Northolt
Taylor Swift inspires me because I love her song writing skills and her determination to shake it off when people bring her down. I love you Tay Tay!
Lea, London
Malala inspires me because she kept fighting for women's rights, even after she was shot.
Leah, Surrey
The Suffragettes inspire me because they risked their own lives to make sure that woman got the same rights as men.
Nadine, London
I believe that my mum inspires me because she is very kind, respectful and loving.
Tara, Lightwater
My mother inspires me because she is kind, thoughtful and encourages me.
Kaysia, Wales
My hero is my little sister because she has Down's syndrome she doesn't let that get in her way.
Idil, Cardiff
I look up to Beyoncé because she is pretty and sings cool.
Anjali, London
The women that inspire me the most are: J.K Rowling because she supports lots of great charities and also has written the Harry Potter series, and Emma Watson because she is a fantastic actor and also supported women and made a speech claiming women and men are equal. Both of these women are great inspirations.
Selin
Jennifer Lawrence inspires me. I love all of the films she is in especially the Hunger Games and when I'm older I want to need an actress just like her.
Anya, Essex
I think all girls my age should go to school. The person who inspired me to say this is my teacher as she believes everyone should go to school.
Hannah, Birmingham
My mum because she has done so much for me in last couple of years. Thank you so much mum.
Tabitha, Hertfordshire
My friend because she is always smiling, even when she's sad!
Emmeline, Huntingdonshire
I love the Hunger Games and when I'm older I want to be an actor just like Jennifer Lawrence.
Anya, Essex
The women that inspire me are the Suffragettes, because no matter what, they kept fighting for women's rights.
Sophie, West Sussex
I am inspired by Beyoncé, even though I am a boy. I admire her because I want to be a singer one day too.
Manveer, London
Jessica Ennis-Hill because she inspires me to play sport I play squash.
Katie
My inspirational women is my mum because she gives me food, shelter and love.
Isla
My mum inspires me because she does everything for me and she's always kind and happy.
Hana, Leicester