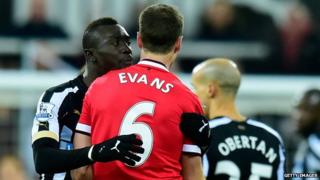 Getty Images
The Football Association has banned two Premier League players for spitting.
Manchester United's Jonny Evans is banned for six games while Newcastle's Papiss Cisse is banned for seven.
Evans was accused of spitting towards Cisse during a match on Wednesday, but he denied doing it.
Cisse was accused of spitting on Evans' neck in response.
The incident was not seen by referee Anthony Taylor or his assistants, but it was caught on video.
Three former referees reviewed the footage on Thursday and agreed the players should have been sent off.
The FA said: "Mr Evans denied the charge but it was found proven."
Evans said in a statement: "I would like to make it clear that I did not spit at Papiss Cisse. Having woken up this morning, I am shocked to have seen the media coverage from last night's match."
Manchester United manager Louis van Gaal said: "I don't think Jonny Evans is a spitter. He was not aware he was spitting. He has said that also. I believe him. For me, the matter is done."
Cisse has apologised for his role in the incident. He said: "I reacted to something I found very unpleasant."