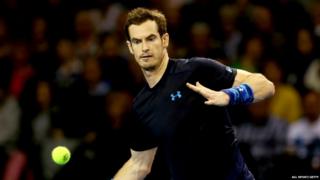 ALL SPORT/GETTY
Andy Murray jumped for joy after winning the first round of the Davis Cup.
The UK tennis number one beat USA's Donald Young three sets to one.
It was the first time in four years that Murray had played in front of his home crowd in Glasgow, so it was important for him to secure the win.
The final score ended 6-1, 6-1, 4-6 and 6-2 to Murray.
Murray opened the Tournament, by saying it would be 'unlikely' that he would play in the doubles matches with his brother, Jamie Murray or his teammate Dom Inglot.
Andy's next match will be against another USA competitor John Isner, and will take place on Sunday.