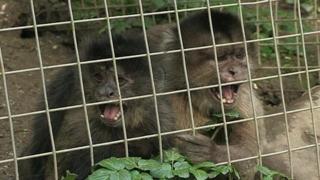 Daisy the monkey finds a new friend
Daisy the Capuchin monkey has just moved into a new home at a sanctuary in Cornwall.
Daisy is around 45 years old and hasn't met another monkey from her species for 35 years.
She had a bit of a bad start in life and was treated quite badly by her old owner.
The owner has now been prosecuted by the RSPCA.
After being rescued Daisy moved into her new home which she shares with Peppy, another Capuchin monkey.
We found out from their keeper how they have been getting on.