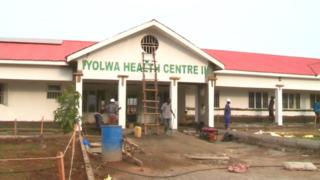 Comic Relief transforms Africa clinic
Operation Health for Comic Relief has transformed a run down clinic in Uganda, Africa, that was falling apart, into a fully functioning mini-hospital.
Iyolwa clinic serves around 18,000 people in the local community, with around 1,450 patients visiting per month.
Before the work, it had no power or running water for years, a ceiling that was close to collapse, rodent and insect infestations and medical equipment that was too old and didn't work properly.
Women had to give birth using just the light of mobile phones, patients were stung by hornets nesting in the roof and sick people opted to go without treatment for fear of the roof caving in on them.
Now, the centre is completely renovated and Comic Relief legend Lenny Henry has given us a tour.
Money raised through Red Nose Day on March 13 will go towards not just this project, but will also help to improve healthcare in communities across Africa.
It'll help charity workers, from training medical staff to providing life-saving vaccines and mosquito nets.