Prince William has spoken out against "vicious" illegal wildlife trading, in a speech on the last day of a tour of China.
He said the world seemed to be "hurtling towards" elephants becoming extinct in the wild, adding it would be "an immeasurable loss to humanity".
He had earlier visited an elephant sanctuary to see rescued animals.
Ivory is hugely popular in China and the prince is working to raise awareness of the animals there.
Extinction danger
Recent studies have shown that African elephants are being killed faster than they are being born.
Elephants are killed by poachers who want their tusks which contain a material called ivory, used to make ornaments in China and other parts of Asia.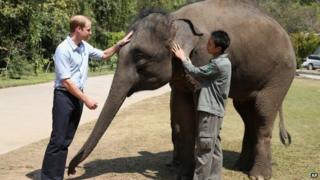 AP
"The greatest threat to elephants worldwide today is not local farmers protecting their livelihoods, it is ruthless and organised poaching and trafficking," said the prince.
He says more needs to be done to stop the trade in ivory, and discussed the problem with China's president, Xi Jinping, during his visit.
During the visit the prince helped to feed Ran Ran, a 13-year-old rescued female Asian elephant, who was discovered in a jungle river in 2005 with a leg wound caused by a trap.