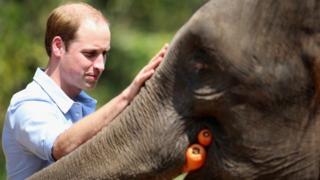 Prince speaks against illegal ivory
Prince William has spoken out against "vicious" illegal wildlife trading, in a speech on the last day of a tour of China.
He said the world seemed to be "hurtling towards" elephants becoming extinct in the wild, adding it would be "an immeasurable loss to humanity".
He had earlier visited an elephant sanctuary to see rescued animals.
Ivory is hugely popular in China and the prince is working to raise awareness of the animals there.