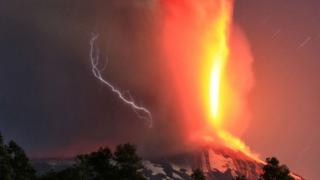 Chile's Villarrica volcano erupts
The Villarrica volcano in Chile, South America, erupted in the early hours of Tuesday morning, spewing ash and lava up to 1,000m into the air.
More than 3,000 people have been evacuated from near the volcano.
The 2840m-high Villarrica is an active volcano with a lava lake in its crater.
It is a popular destination for hikers.
The volcano's last major eruption was in 1985 and there have been smaller eruptions since.
Watch Hayley's report above to see the incredible lava explosion.