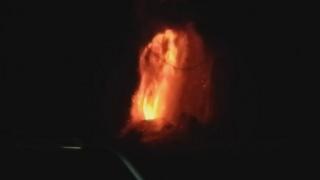 Chile volcano erupts at night time
Check out these videos of a volcano erupting in the middle of the night in southern Chile in South America.
The Villarrica volcano is one of South America's most active volcanoes.
It erupted on Tuesday around 3 am local time (6am in the UK).
More than 3,000 people have been evacuated from homes near the volcano.
Every year, tourists flock to the nearby city of Pucon, for outdoor activities like hiking around the volcano.
The national park has been closed as a safety precaution.
Video courtesy of Dhayana Guzmán, Nessa Contreras, Nicolas Garcia