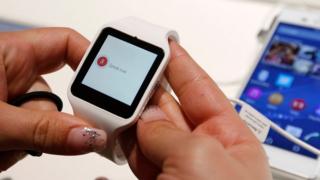 Everything's connected at mobile show
The world's biggest mobile tech conference is taking place in Barcelona in Spain. This year it's all about how mobile tech is connecting everything you can think of...
At the Mobile World Congress there's a car that you can control using your phone and a BMX with a sensor that tells you how high you have jumped.
There's smart tennis racquet to help you play better, and a suitcase that knows where it is and can be locked remotely.
The BBC's tech expert Rory Cellan-Jones had a look at what's on show.