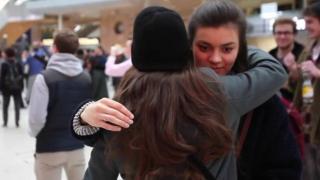 Frozen flash mob at train station
Picture the scene - you're in one of Britain's busiest stations waiting for your train and all of a sudden, people around you begin to freeze, just like a statue.
Well this really happened at Waterloo station in London.
It's called a frozen flash mob and saw loads of people meeting up at the station and standing completely still at the same time.
And it surprised members of the public who knew nothing about it!
Pictures courtesy of YouTuber Merrick Winter