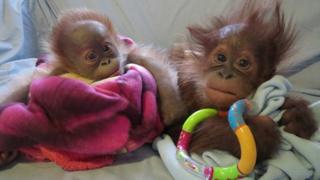 Baby orangutans arrive in the UK
These two baby orangutans have just arrived at their new home at a rescue centre in Dorset.
Seven-week-old baby Rieke travelled from Berlin in Germany, after being rejected by her mum at birth.
Little Bulu Mata is five months old and came from Budapest after his mother died.
The two orphans will be introduced to other orangutans at the rescue centre in the hope that they will adopt the little apes and take care of them.
Reike and Bulu Mata are both Sumatran orangutans, which are critically endangered in the wild, because of loss of habitat where they live.
BBC reporter Bryony MacKenzie went to see how they are settling in...