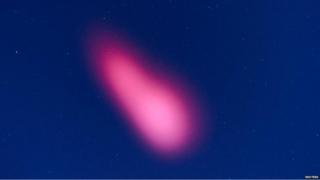 Reuters
People in Arizona, America, got a surprise when they looked up in the sky and saw a big pink cloud!
Residents could see it for about 20 minutes and didn't know what it was...
But they didn't need their eyes checking - the cloud was from a Nasa research rocket.
The rocket released vapours which glowed pink in sunlight.
The vapours were to help study how part of the Earth's atmosphere was formed.