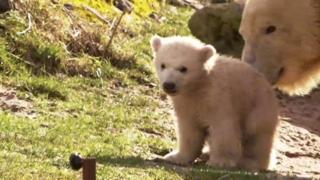 Twin polar bear cubs venture outdoors
These super-cute polar bear cubs have taken their first steps outside at a zoo in Rotterdam in the Netherlands.
The twins were born at the beginning of December last year but this was their first look outside.
They had a good explore of their enclosure with their mum Olinka.
The cubs don't have names yet because their keepers don't know whether they're male or female.
International Polar Bear Day is celebrated every February 27 to raise awareness of the animals' conservation status.