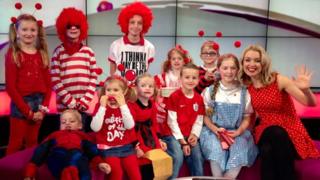 Newsround
This year's Comic Relief was all about making your face funny for money.
Red Nose Day took place on 13 March and thousands of people all over the country made their mates chuckle with a funny face.
Comic Relief is all about raising money to help millions of disadvantaged people - here at home in the UK and across Africa too.
Here's how you got involved...
I have been baking red nose cup cakes for Comic Relief and selling them from my house. Last Sunday I raised £157 from selling my cakes to friends and neighbours and I'm selling them again this Sunday.
Alfie, Wolverhampton
At my primary school we are doing sponsored hula hooping for charity.
Fatim, Leeds
I am holding a comedy evening for my family tonight to raise money for Red Nose Day.
Jack, Swindon
Our whole school is doing a sponsored silence for thirty minutes today - it's going to be hard!
Lana
My school will be selling red noses, cakes and we are doing a coin trail against the colleges in our school.
Jessica, London
I'm entering the school talent show with my BFF and we are doing a comedy act and a duet. The whole school is dressing up in red!
Erin
My school is having a funny face day and me and my best friend are wearing our mum's makeup!
Jack, Cornwall
For Comic Relief I'm going to be baking cakes and selling them to my friends and family. I am going to do a sponsored run for money and I think everyone should do something funny for money!
Kaycee, Croydon
Thanks for sending us your comments. This chat page has now closed.