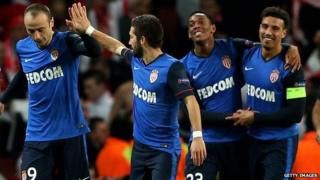 Getty Images
It was a night to forget for Arsenal in the Champions League as they lost 3-1 at home to Monaco.
It means their hopes of reaching the quarter-finals for the first time since 2010 are slim.
The Gunners looked disorganised and ragged against Monaco, a side that used to be managed by Arsene Wenger.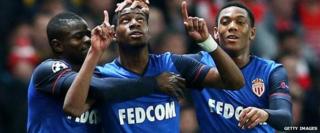 Getty Images
At 2-0 down in the 90th minute, Alex Oxlade-Chamberlain scored to give Arsenal some hope - which they threw away by conceding again.
'Massive task'
Yannick Ferreira Carrasco added a third goal as the home side were caught hopelessly on the counter.
Afterwards Arsene Wenger admitted Monaco's third goal could be crucial, saying: "The task is massive now. The third goal makes it even more difficult. We will have a go of course."
Monaco had taken the lead in the first half through Geoffrey Kondogbia's deflected shot.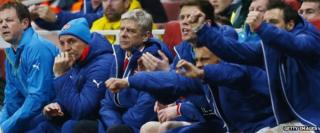 Getty Images
Then former Tottenham striker Dimitar Berbatov added the second goal just after half time.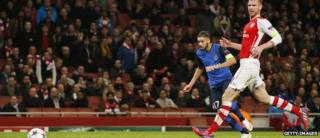 Getty Images
When Arsenal did create chances they went to waste as Olivier Giroud missed every one that came his way.
They'll have a tough job indeed to overturn the deficit in the tie's second leg in Monaco.