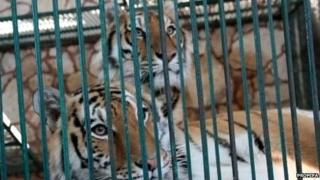 Profepa
More than 100 animals have been rescued from an overcrowded private zoo in Mexico, after complaints from visitors.
Mexican environmental officials who raided the property found animals in cramped cages piled on top of each other.
Animals such as lions, bears and tigers, bears were being kept in terrible conditions at the zoo.
Officials who seized the creatures said they would try to find suitable new homes for the animals.
The zoo is owned by a senior Mexican politician, Sergio Gomez.