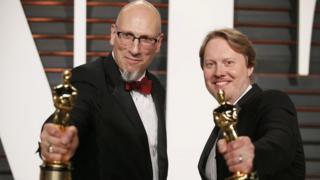 Big Hero 6 makers chat to Newsround
The people behind Big Hero 6 have been speaking to Newsround after the film won the Best Animation award at the Oscars.
The ceremony is the biggest film event on the planet and the Disney movie picked up the prize, which was won by Frozen last year.
You can find out
But fresh from receiving their famous golden statues the film's director, Don Hall, and Producer, Roy Conli, answered some questions specifically for Newsround about the success of the movie, and the chances of making a Big Hero 7.
Watch the clip to see more.